Originally published on Phocuswire
By: Paul Barron, EVP, Marketing, Partnerships & Commercial Operations, Hospitality, Amadeus
I hope 2022 will be remembered as the year of travel industry renewal, as it seems nearly everyone I know has spent some well-earned time away from home this year – myself included. Beginning in the spring, we saw leisure demand surpass pre-pandemic levels globally with some markets reporting record-high reservation rates. This trend continued throughout the summer, laying excellent foundations for a strong Q4 where hotel reservations are already outpacing 2019 bookings, according to Amadeus business intelligence data.
Similarly, group and business travel is on the upswing, with 35 million more group room nights booked in H1 2022 over the same time last year, and 38 million group room nights already booked for H1 2023.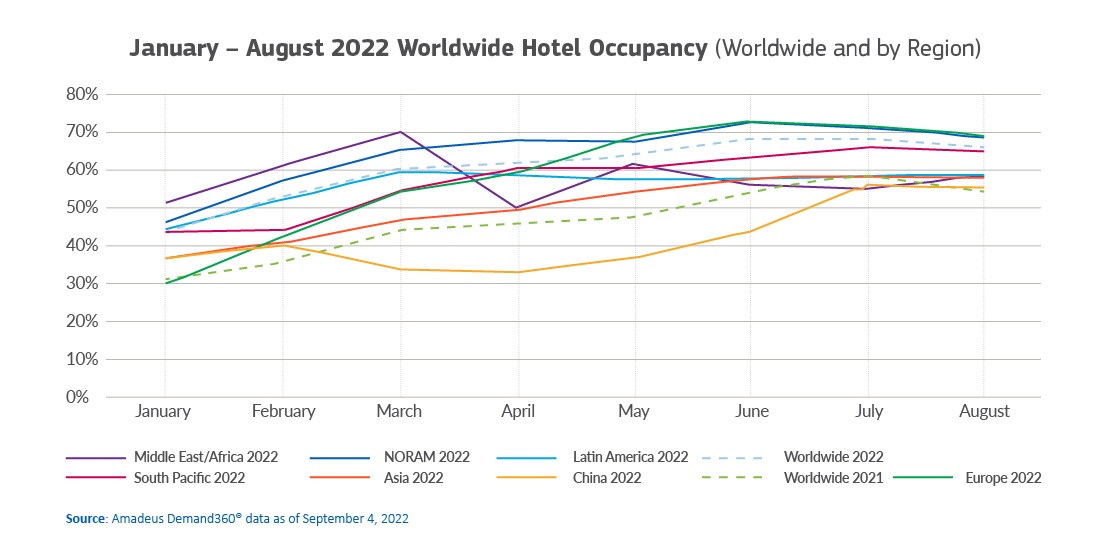 With such positive indicators heading into 2023, how are you preparing to allocate your technology budget to tackle your greatest needs? Which areas should you focus on to keep your property – or destination – ahead of the pack? Here are 5 important considerations for your 2023 budget plan:
1.   Lead with data
Comprehensive business intelligence data is critical to inform strategic decision making across all aspects of hospitality – from revenue strategy, to marketing, sales, and operations.
The most sophisticated solutions on the market provide both historical and forward-looking performance metrics and market insights, along with air traffic data to position your property or destination for success.
Pair this with other data available across all systems – CRS, CRM, and more – to gain a truly holistic view of your business. Armed with the ability to identify peak and need periods, you'll be empowered to confidently adjust room rates, hire staff, or launch promotions to entice more bookings.
2.   Think outside the (marketing) box
How are you connecting with your most profitable audiences today? Through social media? E-mail marketing? If you haven't yet adopted an omni-channel media strategy, 2023 would be the year to do so if you want to stay ahead of your competitive set. Employ all channels at your disposal (targeted ads, metasearch, GDS advertising etc.) to truly cast a wide net and elevate your brand's visibility in front of travelers and travel agents alike.
Particularly with group and business travel returning, global distribution system (GDS) usage is on the rise. According to new Amadeus research, 60% of travel agents say they login to a GDS more than 4 times a day, and 88% say ads influence their buying behavior.
The results speak for themselves. Thanks to Amadeus supported media campaigns, Mexican hotel chain Posadas increased its web revenues by +364% since the pandemic, and Spanish destination marketing organization (DMO) Turismo de Tenerife secured +150K bookings to its island.
3.   Boost direct bookings with e-commerce best practices
A strong distribution mix will always be important for capturing bookings where guests prefer to shop, but your Direct channel is likely your most profitable and where you'll want to focus the most. But an outdated hotel website with a fragmented booking flow just won't fly with today's consumers. They want a lightning fast, modern website where they can clearly see what they're buying with options to personalize and upgrade.
Maximize your online presence by integrating reservations, guest management, and web solutions into a user-friendly experience for guests. Designed with e-commerce best practices in mind, this type of platform provides a highly configurable booking flow that enables personalization and more hotel revenue opportunities.
Hoteliers using a combination of booking engine + web are already seeing the value, reporting up to a 25% increase in reservations during beta testing.
If you're not quite sure how to assess your online presence, download our e-commerce guide to identify areas of improvement.
4.   Automate operations amid continued labor shortages
As travel demand increases amid continued labor shortages, hoteliers are challenged to come up with creative solutions to operational issues. Whether it's pooling housekeeping resources across multiple properties or turning to self-service kiosks to handle guest check-in/out, it's clear that technology can help manage pandemic-influenced challenges.
If operational challenges are a major issue for your property, give your staff the ability to work smarter, not harder. Service optimization solutions can be a valuable tool to enable better staff communication and faster resolution of guest requests, while automating maintenance and housekeeping activities. This can help eliminate costly delays and confusion between team members in favor of giving them time back to focus on the guest and provide a positive overall experience.
5.   Prepare for the next generation of meetings and events
Its clear people are ready to leave home and meet in-person again. Whether it's a wedding, family reunion, corporate team building, or major conference staged in a hybrid format, consider what's driving gatherings now. Health and safety remains a major concern, but wellness and sustainability are also coming into focus after two years of pandemic stress.
Conference attendees don't want to sit through 8 hours' worth of presentations. They want rejuvenating activities and healthy snacks to elevate their day. They want social distancing protocols and food hygiene to be taken seriously, while still having the space and opportunity to connect with others face-to-face.
Prepare for more unique requests like this from planners in 2023 and use sales and catering technology to help them book, plan, and visualize the big day.
With 2023 looking to build on this year's travel recovery, it will be critical to adopt technology that can scale with your business and position you for success now and in the future. For more details on Q4 hospitality trends and market insights, as well as a complimentary technology investment handbook to aid your planning efforts, visit our website.