Originally published by Transparent
By: Jade Tinsley, Head of Marketing, Transparent & Katie Moro, VP of Data Partnerships, Hospitality, Amadeus
With the hospitality industry still identifying ways to adapt to the impact of COVID-19, there's been much discussion around traveler trends and their engagement with vacation rentals and hotels. While many have speculated on traveler preference and activity, we have pooled resources for HEDNA. Aligning Transparent's Smart Rental vacation rental data with hotel booking data from Amadeus' Demand360® solution, we present true insight. We also offer best practices and suggestions on how the industry can adapt to today's traveler expectations.
We compare global regions as we start by reviewing occupancy; achieved and on-the-books to the end of the year. Subsequently, we examine booking lead times and offer some strategic thoughts.
North American vacation rentals and hotels
In our first chart, we review North American occupancy rates throughout 2020. The start of the year looked positive; especially for hotels. Early in March we see the beginnings of COVID-19 impact with a significant decrease in occupancy in the region.  However, moving closer to summer, we see occupancy shift as travel restrictions begin to lighten.
Vacation rental occupancy suffered a less severe drop-off, climbing towards recovery as decidedly as it deteriorated from late June. Following this initial end-of-summer rush of occupancy, things leveled off around 45% in week 37. Though on a slightly different progress trajectory, hotel occupancies saw similar patterns of recovery and stabilization.
Occupancy in North American vacation rentals and hotels has remained relatively stable until now, at the beginning of December. On the books occupancy generally falls steadily from here as would be expected. Christmas and New Year nevertheless bring a positive rise at the end of 2020. The relatively high levels on the books should inspire confidence in demand. However, occupancies are only one metric to track. It's also essential to consider booking lead times, which show some variance between the two accommodation types.
When we look at booking lead time through 2020 in North America, the first observation is that vacation rentals (33 days on average) typically have around double the lead time of hotels (17 days). The first weeks of 2020 see short term rentals around a 50 day lead time and hotels around 15 days.  Interestingly, as the pandemic and its restrictions hit, the lead times experience opposite impacts. Vacation rental lead times drop while hotel lead times increase. Moving into the fall and winter months booking window levels off, with vacation rentals booking around 3 weeks in advance and hotels 2 weeks on average.
European vacation rentals and hotels
In Europe, the early 2020 performance looks similar to North America. Yet, Europe's more stringent travel regulations pushed occupancy around 10% lower on average. Again, both the positive preface and negative impact are more significant for hotels and recovery more marked for vacation rentals.
With the more reactive summer surge seen in short term rentals, the bookings tend to look more positive than hotels. On average, bookings are made further in advance in vacation rentals, which is likely a contributing factor to their comparatively positive outlook. Interestingly, in the European space, we see the difference in lead times condensing following the onset of the COVID-19 pandemic.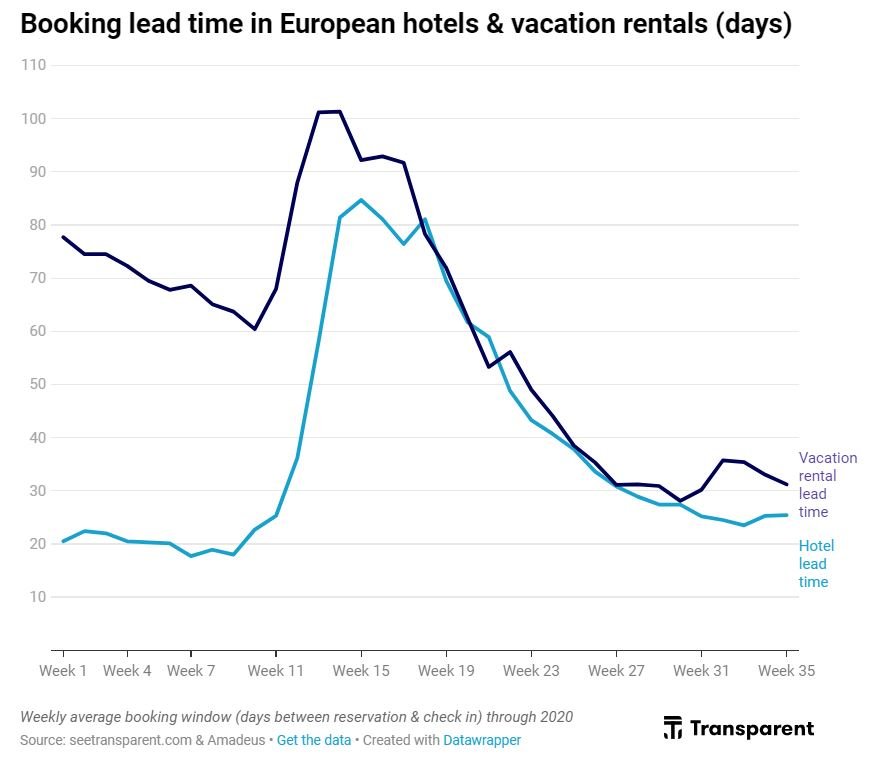 Above, we have average booking lead times across Europe through 2020. Comparatively, the difference in lead times ahead of the crisis is similar to what we see in North America. However, as the impacts set in, both hotels and VR see an increase in booking window initially. In fact, lead times of around 90 days were seen before the downturn at week 15. The time between booking and check-in has continued to decrease in a remarkably similar fashion from then on, right down to 25 days in European hotels and 31 in European short term rentals in the first week of September. Both sectors are therefore currently seeing bookings for the beginning of October.
Asia Pacific vacation rentals and hotels
Meanwhile, in our final world region of Asia Pacific, 2020 began with hotels decidedly superior in terms of occupancy.
In contrast to other regions, however, the drop in vacation rental occupancy in the height of COVID-19 was more severe than for hotels, with occupancy rates as low as 7%. However, from week 28, occupancy levels in the two sectors were more aligned until October, where hotels enjoyed a peak last week. Things fall away in both sectors as we look forward, but occupancies are very comparable.
Booking lead times in Asia Pacific tell the familiar story of vacation rentals having much larger booking windows. Hotels are consistently relatively low, hovering around the 10 day mark. Surprisingly, not much impact is seen to hotel booking habits, while short term rental lead times are erratic throughout 2020. Seeing a drop of around half, they currently sit around 30 days.
Conclusions
Overall, we can see some global trends emerging from this crisis. The earlier recovery seen during the summer months has shown some leveling off as we move through the fall season and into winter. Despite average occupancy being lower in 2 of our regions for vacation rentals, the relative impact to hotels appears greater. Vacation rental occupancy across all regions is relatively higher than hotel occupancy.
While there is likely to be variation from market to market, it's important to consider that travelers are looking for more flexibility and self-sufficiency when booking accommodation. Due to the uncertainty of travel guidelines, they're making their decisions much closer to the date of travel. Properties must communicate sanitation and safety protocols and local guidelines for public interaction to ensure booking confidence. Urban markets are likely to see a more significant impact as travelers are looking to stay in more isolated locations for more extended stays that allow for flexibility to live and work in a remote location.
The difference between sectors becomes more exaggerated as we look further ahead; likely explained by longer vacation rental booking windows. However, with much shorter lead times across the globe, accommodation providers have the opportunity to target individuals interested in traveling and realize a positive impact on their business within the year.  Access to forward-looking, on-the-books market insight will be essential to building an effective strategy.  With an understanding of who is looking to book in your market, what channels they're using, and when they're booking, you can tailor your marketing and revenue management strategies to deliver the ideal package to target travelers and win their business.
What can data do for you?
Learn how you can build an effective recovery strategy leveraging Amadeus' Demand360® and Alternative Accommodations business intelligence solutions. With the industry's most comprehensive, up-to-date hotel market data, now with the ability to be enhanced with Transparent's industry-leading global vacation rental data, you can uncover the true picture of your market performance and build a plan for success.